Latest posts by Masindi Mamphiswana
(see all)
If leading and managing in a business environment is a career aspiration for you, you will find a Master of Business Administration (MBA) degree very useful. 
Choosing an MBA programme means choosing the institution at which you will study. Of course, you will want to choose a recognised business school for your studies, as your qualification – along with where you obtained it – can influence your career trajectory, helping you to find new career opportunities and form networks with influential business people. 
It's useful to do extensive research on potential institutions so that you can compare them and figure out which one best fits your education and career needs. 
IN THIS ARTICLE:
Why an MBA degree may be ideal for you

Which institution offers the

best MBA in South Africa

?

What business administration subjects would I study?

What's vital when choosing your MBA
An MBA is a high-profile degree that is instantly recognised internationally. It is an excellent business programme that gives you the theory, knowledge and practical skills needed to thrive in the business world. 
If you plan to have a management career or one in business generally, you will do well to study this programme. Your career aspirations can be accelerated through a masters in business administration as it is highly respected not only in business, but also in other fields. 
While some business schools offer a general MBA, others offer specialised MBA degree programmes, meaning you can specialise in specific areas of business, such as finance or technology, for instance.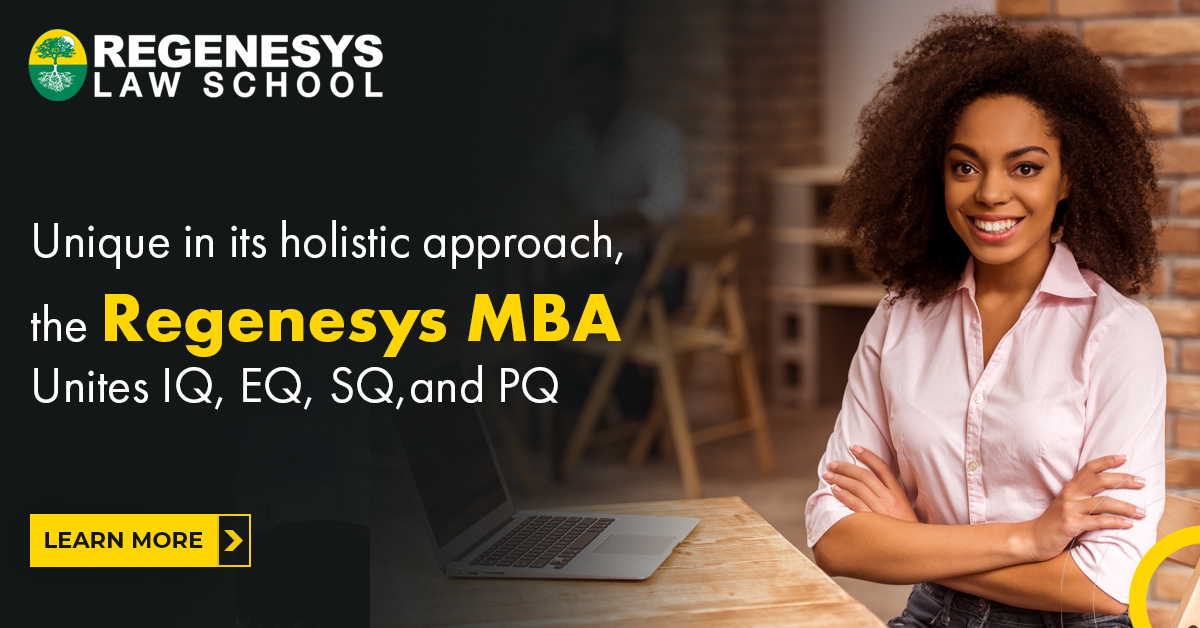 There are many MBA schools in South Africa, and they all wish to further develop and hone individuals to become great business leaders. 
One of the best MBAs  in South Africa is offered by Regenesys Business School, one of the fastest-growing institutions providing management and leadership development skills worldwide.
Paris-based global higher education ranking and rating agency Eduniversal ranks Regenesys Business School as the top business school with considerable local influence. Unique in its holistic approach, the Regenesys MBA unites intellectual intelligence (IQ) with emotional, spiritual and physical intelligence (EQ, SQ, and PQ) as it teaches the art of business.  
This MBA programme is designed to transform the minds, hearts, and souls of students to become highly conscious, impactful leaders. In addition to developing key business skills, the Regenesys MBA degree cultivates the positive values, attitudes and behaviour required to achieve success in a rapidly changing global business environment. 
The Regenesys MBA programme's core modules include the classics of business education:
Entrepreneurship

Innovation

Economics

Operations and Supply Chain Management

Strategic Human Resource Management

Strategic Financial Management

Strategic Management

Strategic Marketing Management

Emotional and Spiritual Intelligence

Business Research Management
You can personalise your qualification by choosing electives that speak to your aspirations, interests and experience:  
Business Ethics and Corporate Governance

Mergers and Acquisitions

International Management

Strategic IT Management

Mentoring and Coaching

Organisational Development and Change
All in all, Regenesys' top business administration degree is a rigorous programme meeting all the requirements of the Council on Higher Education, South Africa's top accreditation body for educational quality. 
Regenesys helps graduates achieve their life goals by honing their management potential and leadership skills to take up key positions and make a strong impact in the business world.
As you consider which institution will offer you the most suitable MBA in South Africa, having gathered all the necessary information, pick your top options based on your education and career needs, and then weigh these against each other.