If you want a career in business and are looking to tackle the basics in South Africa at grassroots level, consider a higher certificate in business studies. This qualification will provide you with a foundation in essential management principles and practices to help you manoeuvre efficiently and responsibly in the business world. 
IN THIS ARTICLE:
Why study a Higher Certificate in Business Management?

Who is this programme for? 

How long is

this business management course

?

What

business management course subjects are covered? 

How this business management course gears you for the real world

Who recognises a

Higher Certificate in Business Management?

It's affordable with a flexible payment plan
A higher certificate in business studies, at NQF level 5, is an entry-level qualification that provides students with the required competencies to pursue various entry-level supervisory roles. 
It equips graduates with an introduction to management as well as the practical techniques needed for future academic endeavors. Most are strongly industry-orientated, emphasising selected general principles, along with specific procedures and their application. 
It's always crucial to look at how a qualification fits in with the goals you want to achieve. Here are some of the benefits of obtaining a Higher Certificate In Business Management:
This qualification:
Creates cross-disciplinary knowledge for real-world practice;

Equips you with the skills to navigate a changing market; and

Allows progression into other degrees.
A Higher Certificate in Business Management will pave the way for you to enrol in a Bachelor of Business Administration degree.
Who is this programme for? 
This programme is ideal for people who wish to pursue careers in business management though they do not have a matric university exemption. 
It's particularly suitable for:
Junior-level staff who plan to grow into managerial roles;

Entrepreneurs who want to gain more knowledge on running a business;

School leavers who want careers in business and want to be workforce-ready as rapidly as possible.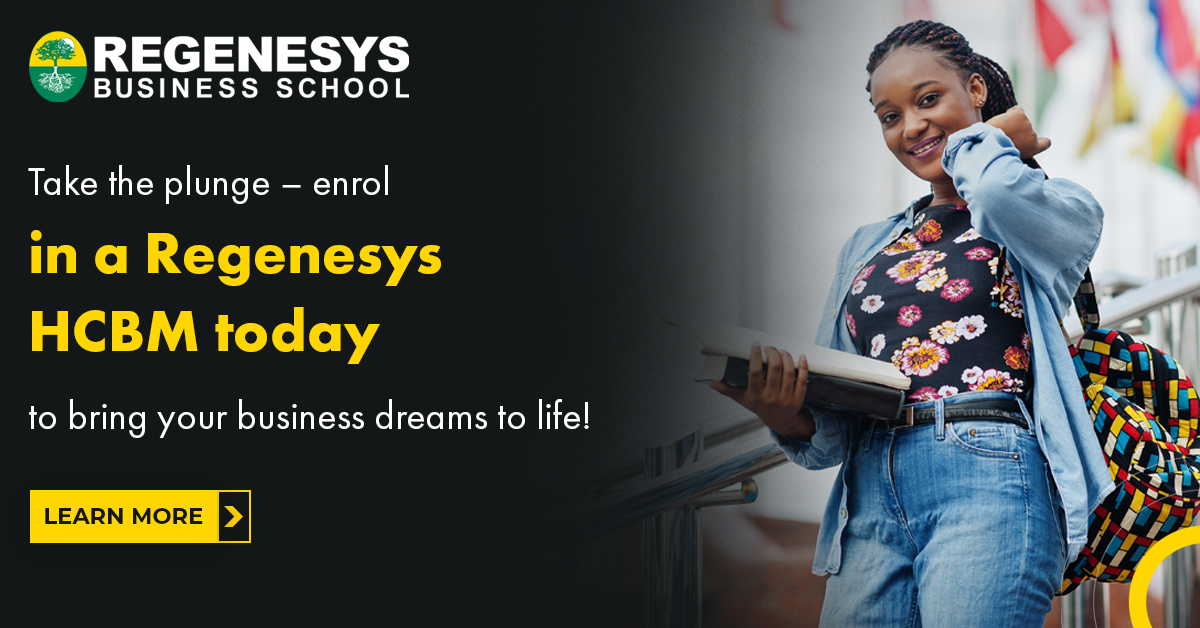 The Higher Certificate in Business Management (HCBM) offered by Regenesys Business School is a one-year course. 
It may be completed part-time, online, giving you enough leeway to accommodate study, family and work. 
Business management course studies vary from one institution to the next. At Regenesys, the HCBM requires completion of these four core subjects, designed to equip you with a basic understanding of theory and practice in the business world:
Fundamentals of Business Management

Fundamentals of Human Resource Management

Fundamentals of Financial Management

Principles of Marketing
Students must also complete two electives, choosing from:
Information and Communication Technology

Project Management

Quality and Customer Service Management

Fundamentals of Sales Management

Negotiation and Conflict Management

Fundamentals of Operations Management
Check, when you register, when your chosen electives are scheduled to run – whether they run in any particular semester depends on the number of students who wish to enrol in them.
Typically, higher certificate courses include a work-integrated learning component. 
If you do your Higher Certificate in Business Management at Regenesys Business School, you will experience active learning to embed crucial business concepts. A big part of this includes learning simulations based on the real-life challenges leaders tackle daily in various facets of business. 
These exercises prompt interaction in the safe space of the classroom, and help to nurture your problem-solving skills. 
Regenesys is registered with the Department of Higher education to provide this qualification.

The qualification is accredited by the Council on Higher Education.
It's affordable with a flexible payment plan
Regenesys Business School's Higher Certificate in Business Management is offered to learners on different payment plan options to fit your budget. If you are ready to take the next step and require further information, speak to a consultant on www.regenesys.net or 011 669-5000.

Latest posts by Lala Kanwa
(see all)