Latest posts by Masindi Mamphiswana
(see all)
A Bachelor of Laws (LLB) degree is the required educational qualification to become an attorney or an advocate. 
IN THIS ARTICLE:
Which is better – a BCom or an LLB degree?

Why you should study for a law degree

Bachelor of Laws career opportunities

What skills are required for an LLB degree

Where can you study a Bachelor of Laws 
The LLB degree is designed to give students an extensive knowledge of the law to be able to offer legal services competently and efficiently.
This type of law degree is a four-year one, with the final year being equivalent to honours. This programme provides the most straightforward path to becoming a lawyer, as it is a pure law degree. 
It's not a case of doing one or the other. If you have completed a three-year BCom or BA you can still become a lawyer provided you complete an additional two-year LLB. The time you spent on your initial degree will not have been wasted if it gives you a good background in business, or an industry on which you wish to focus as a specialist legal practitioner.
However, the LLB degree is a prerequisite to join professional bodies such as the Law Society or Bar Council. According to the Law Society of South Africa, you qualify to be admitted as a legal practitioner once you have satisfied all the requirements for the LLB degree at any university. This involves a course of study of not less than four years, or a course of study of not less than five years if the LLB degree is preceded by a bachelor's degree other than an LLB.
After obtaining an LLB degree you will be eligible to apply for a postgraduate qualification – a Master of Laws (LLM) degree – which can open up pathways to further develop skills and expertise in the field of law. 
The study of law equips one with the capacity to confront complex matters, assess and comprehend human reasoning, and evaluate situations with rational acuity. Good lawyers emerge from their studies able to communicate well – essential to convey sound arguments in court – as well as able to absorb a great deal of information and distil the essence of it.
LLB graduates have a variety of careers available to them. 
Some will involve further study, typically in the form of bar exams in order to be licensed to practice professionally. Bachelor of Laws career opportunities include becoming lawyers, magistrates, judges, paralegals, legal consultants, state attorneys, prosecutors, or professors of law.
Each of these law career paths offers its own unique challenges and rewards.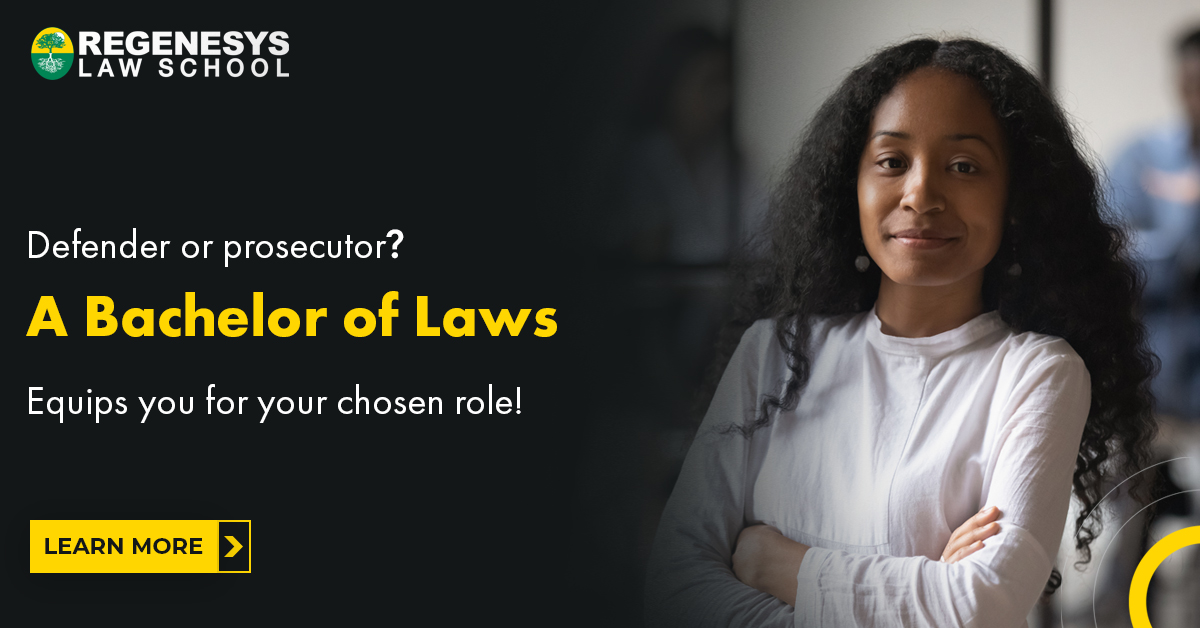 Mastery of written and verbal communication are key skills for a successful lawyer, so it is essential that you develop strong communication skills. This will not only create opportunities for you but will also help you present your ideas and arguments to good effect in legal and business settings. 
The ability to research is another vital skill for legal practitioners. As you are likely to be researching and investigating case facts, preparing legal papers, and offering advice to clients on complex matters, you need strong research abilities as well as analytical skills to interpret, sift, and present information. 
The quality of your LLB degree is important, so make sure that the school you sign up with is accredited. And the better the school you attend, the better your peer network is likely to be – an important consideration for your future.
Regenesys Business School has launched a law school that offers an accredited Bachelor of Laws. This law degree will enable graduates to practice in a variety of legal disciplines, in addition to being eligible to enter the legal profession as an admitted attorney or advocate once they pass the relevant professional examinations.
References: