The Bachelor of Business Administration (BBA) and the Bachelor of Accounting Science (BCompt) degrees are both NQF level 7 qualifications. Each carries 360 credits) Both are offered over three years. 
The big difference between the two is that the BBA is a general business management degree while the BCompt is a highly specialised degree that revolves around accounting science. 
IN THIS ARTICLE:
What is business administration?

What is accounting science?

What the business administration and accounting science degrees have in common

Why choose Regenesys' accounting science or business degrees?

What skills will you acquire from Regenesys' BBA and accounting science degrees?

Why this is an easy decision
A Bachelor of Business Administration degree is one of the most popular undergraduate degrees. Its primary purpose is to provide knowledge and skills in general management, enabling graduates to progress in their careers in almost every sector. The qualification is structured in such a way that it provides individuals with a set of core management competencies, augmented with specialised elective subjects, intended to equip students with the knowledge of management functions so that they can serve in a general management capacity.
The business administration degree's key strength is its ability to open career paths in multiple sectors, developing well-rounded individuals with a wide range of skills from business, marketing,  human resource and project management to financial management. The workload for the qualification is fairly manageable, compared to that of the accounting science degree. It will equip you with the skills to work with and supervise teams, manage a business, and make sound business-related decisions. You will emerge from it equipped to interrogate and resolve business problems, and to apply business management theory for competitive advantage.
The Bachelor of Accounting Science degree prepares learners to enter a range of professional careers in accounting. The programme is designed to equip graduates to apply accounting, auditing, management accounting and tax principles in order to analyse and interpret what they find through the application of various standardised processes. The successful completion of the three-year BCompt degree opens an education pathway to graduates to pursue careers as professional accountants by completing postgraduate diploma in accounting. 
The accounting science degree's strength is its specialisation and concomitantly well-defined career path, usually leading to a professional accountant's post, or setting you up to start your own consultancy. It's ideal for individuals with a strong command of numbers. 
What the business administration and accounting science degrees have in common
Both the business administration and accounting science degrees will equip learners to navigate in general management environments and with accounting skills. However, the first provides much greater focus on a variety of managerial disciplines, with just enough accounting knowledge to make a manager financially literate, while the emphasis in the latter is a laser focus on accounting-related matters, and providing just enough management knowledge for the BCompt graduate to grasp how businesses work.
In both cases, the graduate attributes your courses help you to develop – conscious leadership, thinking differently, and the ability to harness diversity, ground your decisions in evidence and comport yourself professionally, not to mention your glocal outlook – will give you an edge on your competitors.
Regenesys Graduate Attributes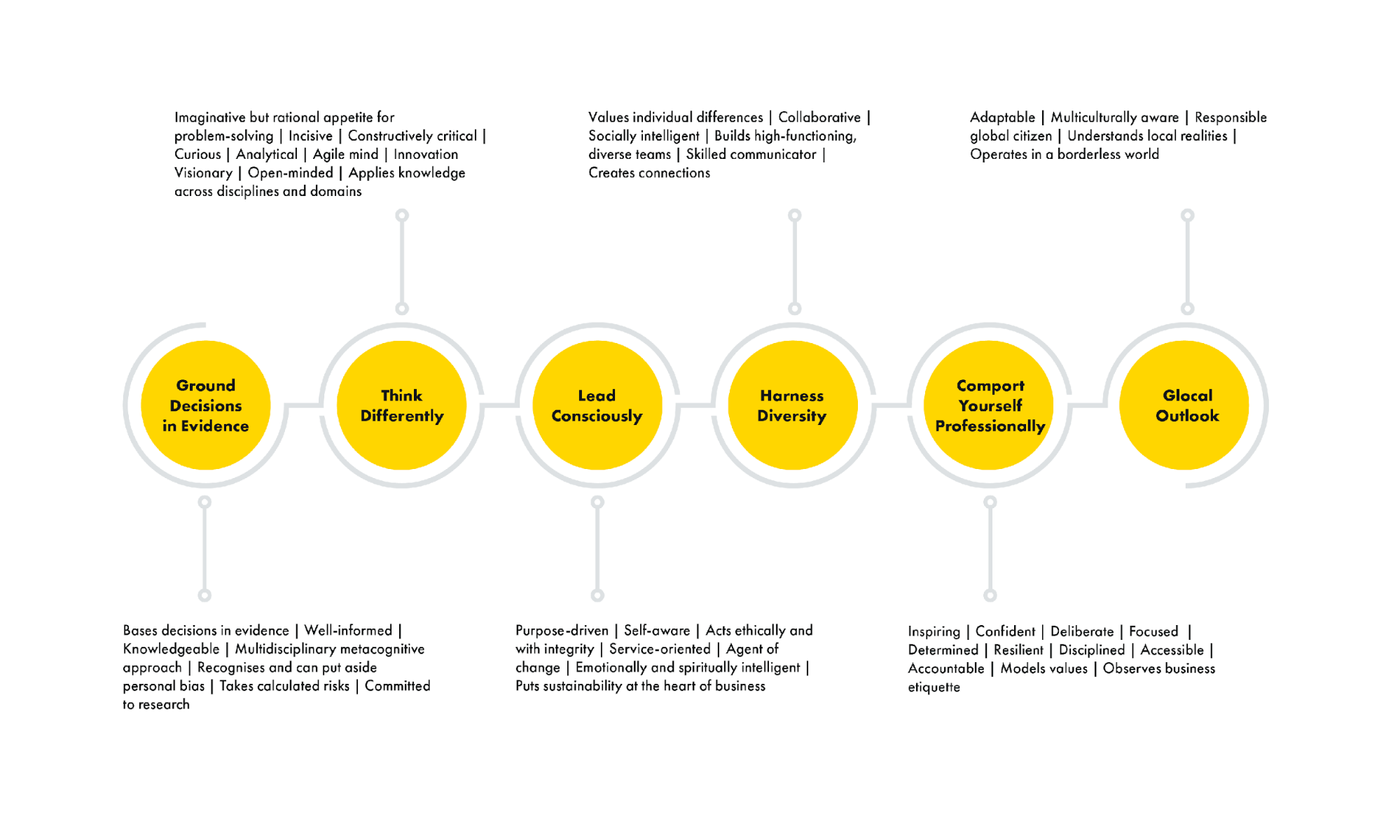 Both degrees will prepare you to advance confidently in your field, and enhance your prospects of promotion – and even to branch out as an entrepreneur.
You can study your BBA or your accounting science degree through contact or online, over three to five years.
Graduates from both degrees who would rather pursue management studies can follow up with a Postgraduate Diploma in Business Management (PDBM), followed by a Master of Business Administration (MBA), and then a doctoral degree.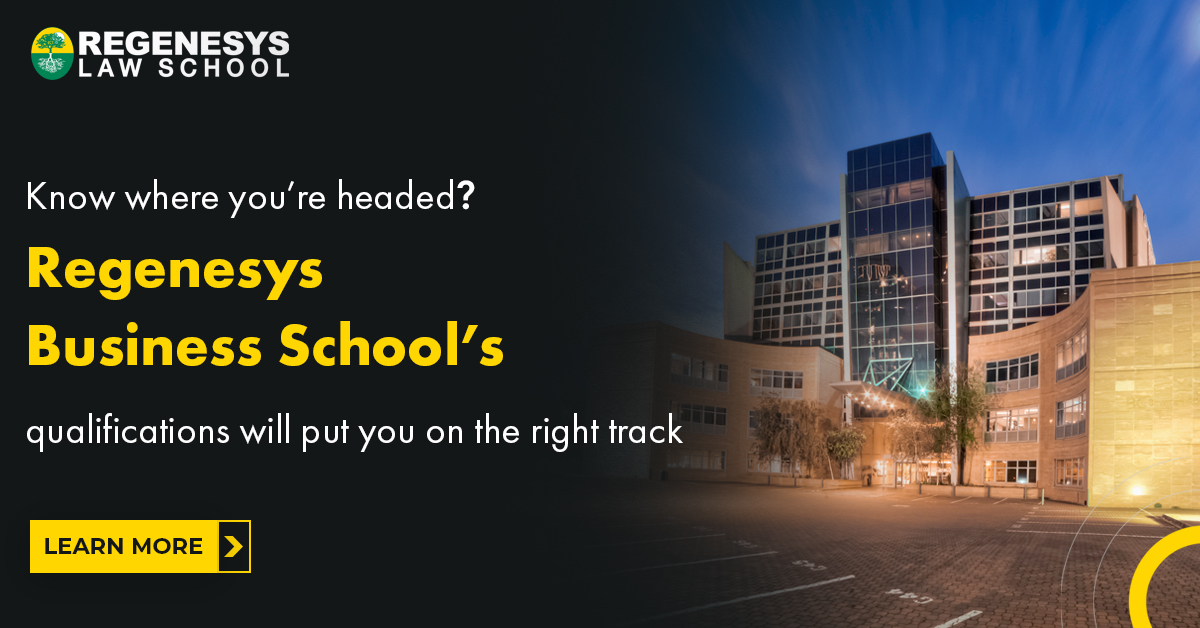 Why choose Regenesys' accounting science or business degrees?
Regenesys Business School's business administration and accounting science degrees are designed around the quintuple bottom line, inculcating a holistic outlook that takes into account purpose, people, planet, profit, and the increasingly important ability to pivot – adapt fast – when necessary. The quintuple bottom-line principles are crucial to running businesses both profitably and responsibly in order to ensure a future for all.
The Quintuple Bottom Line
And every organisation needs well-educated, adaptable and responsible managers, no matter whether it is a multinational conglomerate or your own start-up.  
What skills will you acquire from Regenesys' BBA and accounting science degrees?
Both qualifications will help you work your way up the corporate ladder as a manager who: 
Understands the ebb and flow of the economy; 

Can spot and take advantage of

opportunities as well as head off potential crises.
As you can see by the topics covered in each degree, listed below, the business administration degree will prepare you to manage people as well as the business and its marketing, while the accounting science programme is distinctly geared towards compliance and control.
| | |
| --- | --- |
| Bachelor of Business Administration | Bachelor of Accounting Science |
| Strategic management  | Business management  |
| Human resource management  | Business communication |
| Project management  | Business ethics, corporate governance  |
| Financial management  | Risk and financial management  |
| Marketing management  | Mathematics |
| Economics  | Economics |
| Business law | Commercial law, company law |
| Research methodology | Auditing, taxation |
| Change management | Statistical analysis |
| Negotiation and conflict management | Computer skills  |
| Information and communication technology | Accounting in a computerised environment  |
| Quality and customer relations management | Financial, cost, and management accounting |
Why this is an easy decision
The only decision you need to make is whether your future lies in business management, or as an accounting professional. From there the choice as to which degree is the better one for you will be easy to make.

Latest posts by Patience Nyoni
(see all)