A doctorate is the highest level of education you can obtain in any field, and I'm sure you've been considering earning one for yourself.
All of us are naturally curious about the complexities of the work we perform. Research aptitude emerges from curiosity. The ability to conduct research is a mindset of inquiry, quest, and investigation. Each academic discipline has unique research issues and approaches. A researcher looks for solutions to intriguing questions; aesthetic, social, political, scientific, or technical issues can all be part of the research problem. 
It's a myth that research has scope only in academia. Research in itself is a beautiful process of exploring, assuming, analysing, and interpreting the unknown. And a doctorate in business management broadens the application of discovery across many fields.

IN THIS ARTICLE:
Why we value research in our professional lives

What can I do with a doctorate in business management?

Who qualifies to do a doctorate in business management
Research has so many benefits.
It is a tool that aids in knowledge development and learning.

It's a way to clarify problems and raise people's awareness.

It contributes to our commercial success.

It enables us to refute falsehoods and uphold truth.

It's a way to locate, evaluate, and seize opportunities.

It encourages a love of focused reading and confidence in clear writing, as well as in understanding and disseminating important knowledge.
This degree is advantageous for teaching posts in academic institutions for lecturers, professors, and deans due to its emphasis on research skills. It provides the freedom to shift careers into something more useful as individuals guide teams, businesses, and organisations through difficulties and transitions. 
But a doctoral degree is also useful to prepare for management and leadership positions, placing strong emphasis on the development of research ability. What's more, holding a doctorate can lead to attractive compensation packages and better perks.
Here are some of the opportunities you can consider with a doctorate in business management:
Academic head

– By providing the ability to run a higher education institution as head of a university department or the university itself, a doctorate raises the status of a regular academician.

Chief economist

– As a doctorate in management includes coursework in economics, it can enhance the scope of a career as a chief economist, where management skills are as important as statistical ones. 

Statistician 

– Data analysis and the use of statistical tools as part of the doctoral programme develop the skills in an individual to work independently on data interpretation.

Consultant

– A doctoral degree is the best choice for consulting positions that can improve efficiency and revenue for firms, as you will be well equipped to assist in problem-solving as a business operations specialist or market research analyst.

Entrepreneur

– Many doctorate holders choose to launch their own enterprises instead of continuing to work for others because of the active, hands-on nature of doctoral degrees, which equips them to devise and sell distinctive goods and services.

Research consultant to government institutions

–

One might also  consider an advisory role to assist government units. The studies they require pertain to helping make decisions on policies, advising ministries, and expertise in societal behaviour. Researchers, analysts, and advisors are needed in disciplines like IT, finance, law, policy, public health, and behavioural and social science.
The theoretical and practical knowledge obtained in doctoral research can be applied across all industries, helping make an individual future-proof. So If you wish to help your profession and become an expert in your field, a doctorate in business management will be a wise decision.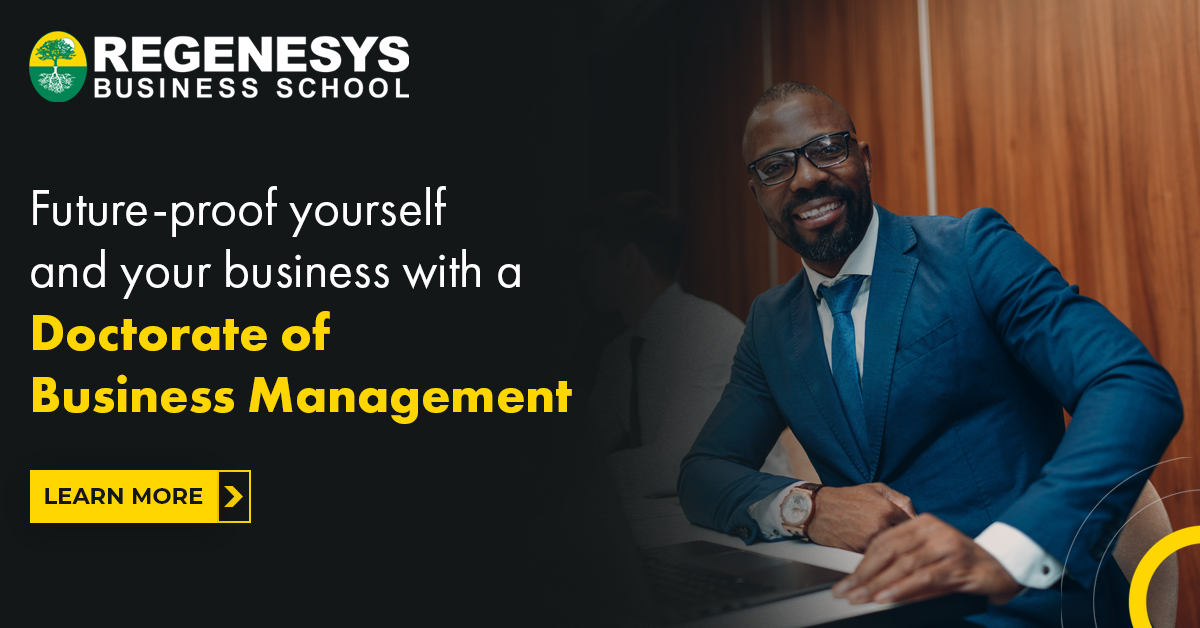 You already possess a master's degree. It doesn't matter whether you completed it recently or some time ago. To be eligible for doctoral studies, you usually need to achieve an aggregate of at least 65% for your master's coursework and the same for your mini-dissertation, or at least 65% for a full research master's dissertation. If you don't meet this requirement, you might be considered for candidacy through a bridging programme.
Interested? Find out more about Regenesys' Doctorate of Business Management here, and start working on your letter of motivation for the academic committee, along with what you want to research. Your research interest will play a major role in whether you will be accepted.
Remember: Opportunities don't happen – you create them!

Latest posts by Renu Jahagirdar
(see all)